Lilies have always been one of the most mentioned flowers, even counted as the most used names for children worldwide. It is not surprising at all, thanks to the captivating, showy, and charming fragrance that they emit whenever they are around. Not only that, but these flowers are also said to be easy to cultivate. From Asiatic to Oriental ones, each of them has its mesmerizing beauty that will add a lovely vibe to your garden or indoor decorations, or perhaps ones that wrapped thoughtfully as a lily bouquet will surely be an eye-catching appearance.
Pixabay 1. https://pixabay.com/photos/brunello-lily-lilium-asiaticum-3515094/
Lilies have unique trumpet-shaped petals, along with strong stems and bulbs made of scale-like segments. They belong to the herbaceous genus and named Lilium in their scientific name. They are often used for both wedding ceremonies and funerals because they are popular with their 'innocence and purity' symbolism. They are also famous for their lovely fragrance; thus, they can also be an ideal thoughtful gift for a special someone.
Being one of the most beautiful flowers, it must be tough to choose which one has the most attractive appearance. That's why we have decided to compile the eight most beautiful lily in this article for you! You shall be the judge of which are the most beautiful ones from our list below.
Forever Susan Asiatic Lily
Just like a carnation, a hibiscus, a gerbera, or any other flowers with plenty of variety of colours, each has its charm and beauty. In this case, Asiatic Lilies are unique plants with various colours, from orange, red, creamy white, and yellow. They have only three to six flowers per stem, don't have any scent, and their petals tend to come in smaller sizes than the other flower of the same kind. They also make a long-lasting and magnificent cut flower.
One of the Asiatic type favourites is the Forever Susan. They have orange and burgundy hues and are able to bloom for weeks, making them have a long flowering life.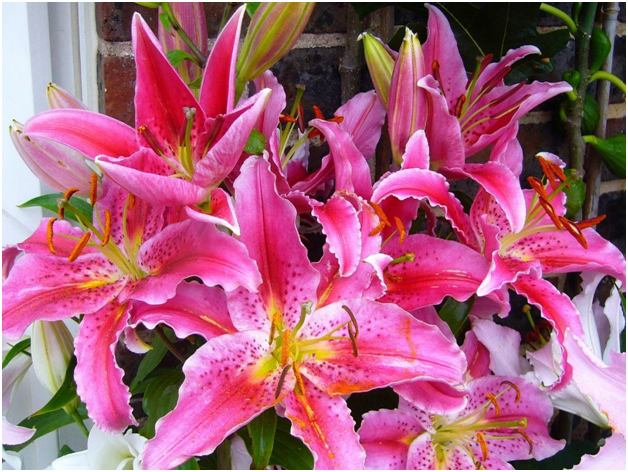 Pixabay 2. https://pixabay.com/photos/stargazer-lily-oriental-flower-pink-57788/
This type is said to be the most fragrant lily compared to the others. Their scent will emit particularly strong in the evening, with broad leaves and sized as large as a dessert plate and many buds. They come in various shades, from pink to purplish-red and white to creamy yellow. They can grow about 2 to 5 feet tall.
One of the Oriental types that are quite popular is the Stargazer. They were introduced almost 40 years ago and are still popular up until now, because of their breathtaking appearance that has a perfect colour blending. The crimson, pink, white and red freckles around the petals surely will be captivating enough for our eyes, plus their charming fragrant makes them included in our top 10.
These lilies have peachy orange shades with maroon stripes on the outside. They have a tremendous and elongated cup. The shape of the petals' tip gives it the appearance of a trumpet. It also has a pleasant fragrance and can grow up to 1,5 m in height and about 15 cm in diameter.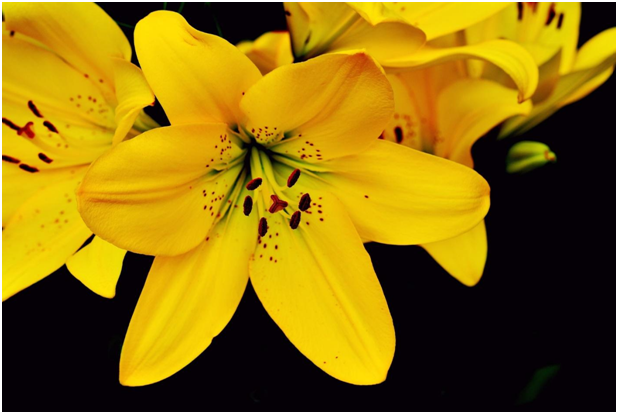 Pixabay 3. https://pixabay.com/photos/lily-yellow-lily-lilium-blossom-2459044/
These lilies have large, yellow-coloured trumpet-like shapes that would be a perfect bloom for early Summer. They are not scented, bearing a small stem yet sturdy flowers. They are excellent to plant in containers or as a cut flower or used for accent, rock gardens, and borders. They can grow up to 50 cm tall.
This bloom has a bright canary yellow colour along with red speckles. It has double flowers and is said to be a long-lasting bloom, even without much maintenance. They also didn't produce lots of pollen and had no scent, making them ideal for those allergic to flower's smell.
Orienpet lilies are a mix of oriental and trumpet types. It is large and heavily scented. They also bloomed for a long time and included hardy and vigorous kind of plants. Silk Road also has a seducing, powerful aroma with a fantastic colour combination.
Pixabay 4. https://pixabay.com/photos/lily-yellow-asiatic-flower-nature-3706195/
This is one of the most popular lilies that can grow up to 4 feet with their massive star-shaped flowers and white shades. They can show off their blooms in the moonlight garden, where their appearance seems to be glowing amidst the dark, but can also look captivating under the sunshine. They have an intoxicating fragrance that will make you fall in love in no time. They can also be magnificent cut flowers.
Magic Star has enormous, dazzling pink petals with red stripes and white edges, decorated with crimson freckles on their petals. They are dubbed as the most striking blooms of summer with ruffled petals. They are also super fragrant with a lack of pollen, making their blooms long-lasting.